Plot: A high school loser dreams of winning the heart of the principal's daughter, but his chances are slim as long as her bruiser boyfriend's around. Fortunately, a chance meeting with a pair of Shaolin-trained kids (previously seen in DRAGON FROM SHAOLIN) gives him the fighting skills needed to come out on top. An unusual but entertaining blending of teen romantic comedy and martial arts slapstick.
Also Known As: Xiao lin xiao zi
Country: Hong Kong, Taiwan
Language: Mandarin
Video: 608 x 384 | x264 498kbps 23.976fps
Audio: AAC 34kbps (2 chnls) 48.0KHz x 4
Subtitle: English Hardsubbed
Year: 1994
Genre: Comedy, Kung Fu
Cast: Kok Siu Man, Ashton Chen, Vivian Hsu, Hilary Tsui, Jimmy Lin
Download
http://www.wupload.com/file/37600965
http://www.filesonic.com/file/1328037564
Shaolin Popey II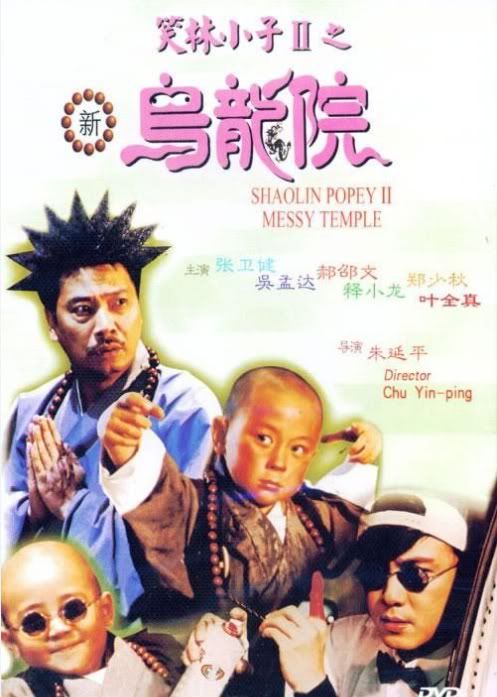 Plot:
The "Shaolin Popey" kids are back in this hilarious adventure with a special appearance by Michelle Yeoh (Crouching Tiger, Hidden Dragon) When Jinx, a mysterious fighter, hires two killers to chop off the palms of the Wu Tang Master, he has no choice but to turn to his rival Shaolin clan for help. Now it's up to the two little Shaolin martial arts masters to save Wu Tang and catch the evil Jinx!
Also Known As: Xiao Lin Xiao Zi 2: Xin Wu Long Yuan
Country: Hong Kong, Taiwan
Language: Cantonese
Video: 560 x 304 | Xvid
Audio: MP3 93kbps
Subtitle: English
Year: 1994
Genre: Action, Comedy
Cast: Sik Siu Lung, Ng Man-Tat, Adam Cheng, Yip Chuen-Chun, Yuen King-Tan, Michelle Khan, Dicky Cheung, Michael Lee
Download
http://www.wupload.com/file/37601781
http://www.wupload.com/file/37599726

http://www.filesonic.com/file/1328035004
http://www.filesonic.com/file/1328018394
Enjoy those childhood memory again :-)